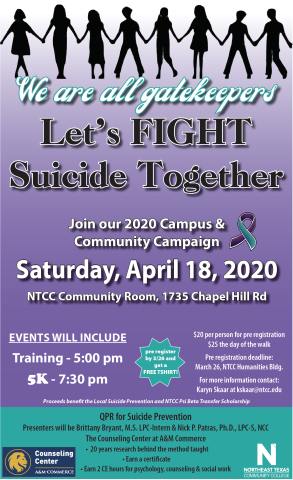 March 12, 2020
Northeast Texas Community College will host a suicide prevention training and awareness walk on Saturday, April 18 on the NTCC campus. The day will begin with a professional development training in the the Humanities Community Room at 5 p.m. and a 5k awareness walk will take place at 7:30 p.m. 
Presenters will be Brittany Bryant, M.Sl LPC-Intern and Nick P. Patras, Ph.D., LPC-S, NCC. A certificate will be awarded for completing the training and 2 CE hours will be earned for psychology, counseling and social work.
The cost is $20 per person for pre-registration (by March 26) and $25 the day of the event. Register early to get a free t-shirt! For more information or to register, contact Dr. Karyn Skaar at kskaar@ntcc.edu. Proceeds from the event will benefit local suicide prevention and the NTCC Psi Beta Transfer Scholarship.