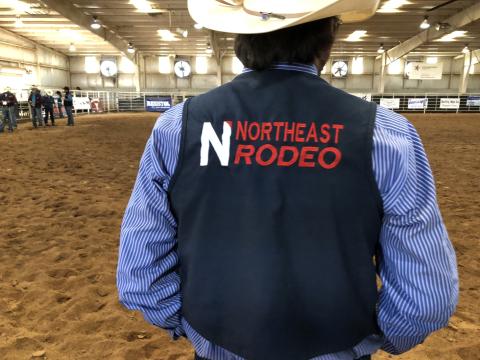 October 8, 2020
By: Justin Hargrove, NTCC Assistant Athletic Director
The Northeast Texas Community College Rodeo Team made the long trip to Uvalde, Texas to compete in the Southwest Texas Junior College Rodeo October 2-3.
Sophomores Peyton Cooper and Garrett Fields had a nice showing for NTCC. Peyton (Ivanhoe, Texas) placed seventh in Goat Tying, while Garrett (Quitman, Texas) placed sixth in the Steer Wrestling event.
After the long road trip to open up the season, NTCC will host its annual National Intercollegiate Rodeo Association (NIRA) rodeo October 16-17 at the Mount Pleasant Rodeo Arena. The college rodeo action will begin at 7:30 Friday night and at 2 p.m. Saturday afternoon. The Mount Pleasant Rodeo Arena (sponsored by Priefert Rodeo & Ranch Equipment) is located at 16689 Greenhill Road in Mount Pleasant.
NTCC student athletes will compete against rodeo teams from 15 other colleges and universities in the NIRA Southern Region. Add COVID precautions here.
"We are excited that we will still be able to host our annual rodeo. While things may look a little different due to COVID-19 precautions, we feel confident our NIRA athletes will put on a great show for rodeo fans," Skylar Hunnicutt, NTCC Rodeo Coach, said.
Tickets are $10 for adults and $5 for kids 12 and under. NTCC students get in free with a valid student ID. Follow NTCC's standings this season at www.collegerodeo.com.