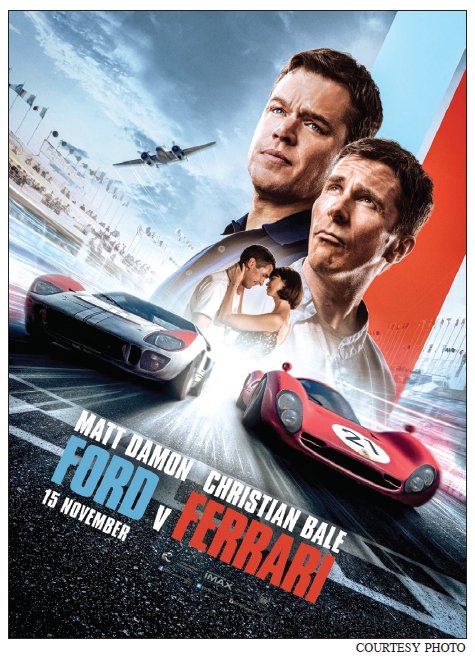 November 19, 2020
By Elisabeth Lively
Managing Editor
Hollywood actors Matt Damon and Christian Bale share one thing in common with Northeast Texas Community College - race car driver and designer Carroll Shelby.
Hitting the big screen this past weekend, Ford v Ferrari shares the story of Shelby (Damon) as he is hired by Henry Ford II to build a newer and faster car to defeat Ferrari in the 24 Hours of Le Mans, the world's oldest automotive race. Stubborn Brit, Ken Miles (Bale), is recruited by Shelby to be the driver of his newest creation, the Shelby Mustang GT350R, and that's where NTCC springs into action.
Eleven years ago, Shelby, a native Texan from the Pittsburg area, began his connection with NTCC by planning to invest more than a half a million dollars into the automotive program for the next seven years. It's been twelve years, and, despite Shelby's death, the family has continued to donate funds into the program. Now, his name lives on in the Carroll Shelby Automotive Technology Department, and its students have now lived up to his name by rebuilding a Mustang race car similar to the one that Shelby is building in the film.
Those students recently had the privileged opportunity to take their car to Las Vegas where it was showcased in the Shelby American Museum during the annual SEMA car show. The event is one of the most premier car shows in the world with hundreds of thousands of people attending. With the debut of the new Shelby film, many of those car enthusiasts made their way over to tour the Shelby Museum where the NTCC students' car was on display.
Shelby Automotive Program Director Ron Luellen said this was a great opportunity for his students to be a part of the Carroll Shelby legacy.
"It all just lined up for us," he said. "The movie was coming out, the car coincides with who Carroll Shelby actually was and it all fits right into the whole grand scheme of a celebration of Carroll's life at this point in time."
While the Las Vegas trip was an honor for students, the trip would not be as valuable  without their prized automotive project. Their hard work and dedication to their project certainly paid off. 
What is now a smooth-running Mustang actually started out as an old, beat up race car. In its racing years, she earned her fair share of battle scars, so much so that she was taken apart and partially pieced back together with part of a different vehicle. Her original body is a 1965 GT 350 R Model replica, but it was fused with a 1966 Shelby Mustang.
Tony Whitworth, Carroll Shelby Automotive instructor, acquired the car a number of years ago and later brought it to the college so his dual credit students could practice on it during their automotive body work class. After collecting dust in the corner for some time, student and former Army diesel mechanic Lynda Cruzgoo approached Whitworth asking if she and a team of students could restore the vehicle to its former glory as part of the performance academy class. Whitworth, who worked on A.J. Foyt's racing team at one time, agreed and he and the students began their work. Whitworth said he never dreamed the old racing car that he traded for would one day be featured in the Shelby American Museum.
"It's special because the students built it," Whitworth said. "Considering all the challenges, it's special because I never dreamed it would get done. I never dreamed in a million years that this car would be here today."
Topping the cake, as a child Whitworth attended the 1965 24 Hours of Le Mans and had watched Ken Miles race, though not yet for Shelby.
But this car isn't just special because it was student-built, its identity runs deeper than its exterior. This vehicle is special because it took on its own personality as the students created it.
"It's got its own character," Cruzgoo said. "And every car does. But this specific car has more character because it has such a story to tell. It's being cut in half, it's been welded together. If you look at the frame, you can see the races that this car's been through. It's been banged up. When you look at a car, it can tell you its own story. It talks to you."
Not only did the students have the opportunity to showcase the car, they also had the opportunity to get the full SEMA experience. The car show also gives attendees the chance to enjoy a variety of meetings, parties and specialized classes.
"They had what was called 'She is SEMA,'" Cruzgoo said. "Basically, it was for only females in the mechanical industry - anybody who worked with batteries, selling tools, mechanics, anything to do with automotive. And it was pretty much a class to morale and be self-supportive with each other that, 'Hey, there's not just one of us there, that we're a big industry, there's not just a few girls, there's a lot of women going into this, and you're not alone.'"
While attending SEMA, the students had the opportunity to get a special screening of the Ford v Ferrari film before it was released in theaters.
"It's amazing," Cruzgoo beamed. "It is very on point, it stays very straightforward, and follows what actually happened between Carroll Shelby, Ken Miles, Henry II and Ferrari. This follows the history line."
In addition to having their car on display in the Shelby American Museum, the students attending had the opportunity to learn, share and network.
"It was very overwhelming with the history of the vehicles that were there and to see what new ones were also coming out," Cruzgoo said.
With two tours going through the museum each day, the students rotated shifts to stand with the car, telling the NTCC story of their own Shelby vehicle to the tour groups as they passed by.
"I think overall it's a good experience for them because they get exposure to the public and the people that are actually the people that support Shelby," Luellen said. "They're exposed to those people, they get asked questions they probably wouldn't get asked otherwise."
Describing the week of the event, Cruzgoo said, "SEMA at Shelby American is like Black Friday for them."
With the film right around the corner from SEMA, the museum was expected to be packed. Another student who traveled to Las Vegas, James Gram, said he overheard one of the museum employees say they had never seen so many people in a single tour at the museum before. Cruzgoo also pointed out that the Shelby department posted on their Facebook page that their car would be at the museum during SEMA. She said the post was shared by many people and pages, some of which came up to the museum during SEMA just to see their car. Luellen said about 500,000 people came to the museum.
"This is the defining moment of my career," Cruzgoo said. "The ten years that I've been in maintenance and mechanics, this is one of the defining moments. Something I can say I've put blood, sweat and tears into, I learned off of, and it's what made me into a better mechanic, a better auto bodyman."
But this experience was a milestone for more than just Cruzgoo.
"I've always been a Shelby fan, ever since I was a kid," Gram said. "And the opportunity I've gotten to come here and be a part of the school is something that I've always wanted to do."
Gram's passion for Shelby cars began at the age of 12, when his father was out looking to buy a new Ford, as he did every year.
"... I was walking around out on the sales floor, and there was a brand new 1970 Shelby Mustang sitting out there, with yellow, black interior, black racing stripes," Gram said. "A kid's dream - a giant Hot Wheel."
Luellen said NTCC's automotive program offers something unique for students while also carrying on the iconic race legend's legacy.
"This program should be more recognized than what it is," Luellen said. "This is the only automotive program in the entire world that bears the name Carroll Shelby."
All the pieces of the Carroll Shelby puzzle seemed to fall into place - the movie, the museum and the car - and Cruzgoo saw it as no coincidence.
With a gleam in her eyes, Cruzgoo said, "I'll bet you that it was Carroll Shelby's spirit that pushed this project along."