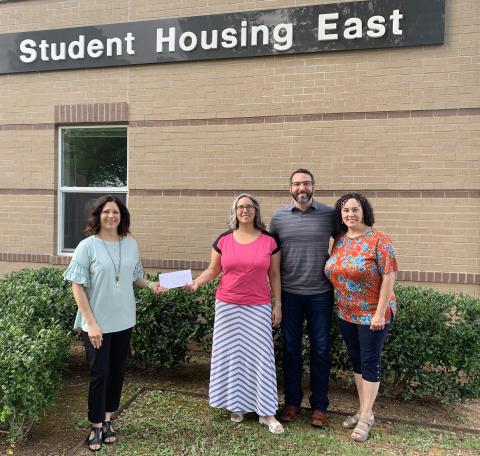 June 30, 2020
The Northeast Texas Community College Foundation recently received a $2,000 donation from the family of Maria Souza. The gift established the Maria Souza Hope Memorial Scholarship and will provide two $1,000 scholarships for NTCC students who are participants or graduates of Hope Ministries of Northeast Texas.
Pictured presenting the gift to Nita May (left), NTCC Director of Development, were three of Maria's 10 children Rachel Dawson of Belton, Daniel Souza of Mount Pleasant, and Ana Paula Mumy of Ottawa, Kansas.
"Our mother passed away last year and we wanted to find a way to honor her memory. She had a heart toward helping youth – particularly young minority women – and we feel like a scholarship to benefit Hope Ministries participants is something that will help carry on that legacy," Daniel Souza said.
Hope Ministries is an independent 501(c)(3) nonprofit organization whose mission is providing a hands up transformation opportunity for single mothers with children in a multigenerational community approach that releases destinies and permanently alleviates poverty for all generations. Many of the participants attend NTCC to help prepare them for new careers.
To learn more about this or other scholarships at NTCC, contact Dr. Jonathan McCullough, NTCC Executive Vice President for Advancement, at jmccullough@ntcc.edu or 903-434-8115. You can also give online anytime at www.ntcc.edu/give.