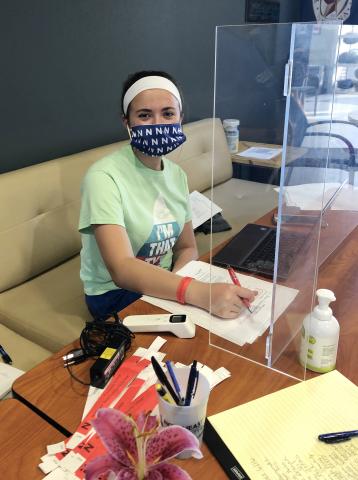 June 18, 2020
The Northeast Texas Community College Work4College program is back in action for summer 2020. Starting June 8, a total of 79 students began participating in the unique 10-week program.  
From manning the campus wellness check-in station (Elena Dodd pictured above) to painting dorm rooms and working on the farm, these students are providing essential services to the campus – all while earning money and saving for college!
"We've had to do things a little differently this year due to COVID-19 to allow for social distancing, but we are thrilled that we were able to continue with Work4College this summer. We are only two weeks in and they have already accomplished a lot around campus," Dr. Jonathan McCullough, NTCC Executive Vice President for Advancement. 
In its seventh year of operation at NTCC, Work4College is a privately-funded scholarship program designed to give students the opportunity to work during summer to earn money for college. While doing meaningful work on campus and learning important life skills, students are able to earn a paycheck and save for future classes at NTCC.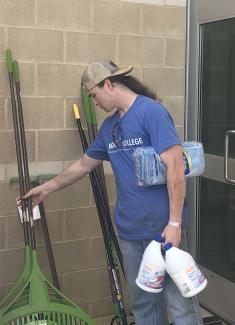 The selective program is open to students who have completed at least their sophomore year of high school who are willing to work hard and learn. In addition to working 15 hours per week, Work4College participants also attend a weekly class that covers various topics like resume writing, etiquette, personal finance, etc. They also complete community services hours. 
"The program continues to grow in popularity and we receive more applications each year. You will often hear that young people are entitled and not willing to work, and Work4College is proving that's not always the case. These students want to avoid college debt and are willing to work hard to achieve that goal," McCullough said. 
NTCC's program is one of the only of its kind and is being shared with other institutions as a best practice case study. Work4College is made possible by individual donors and foundations who see the value in providing students a way to earn their education rather than just receiving grants or loans. 
"We find that many donors resonate with the mission of the program and they really enjoy sponsoring students who are willing to work hard and go through this valuable learning experience," McCullough said. 
To learn more, visit www.ntcc.edu/work4college or contact McCullough at 903-434-8115 or jmccullough@ntcc.edu.