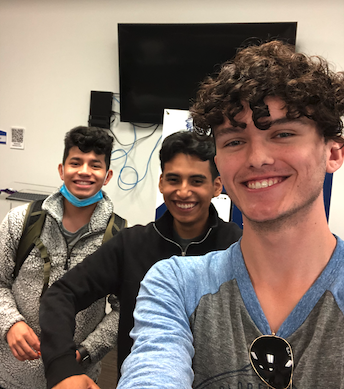 October 21, 2021
The Texas Region of Phi Theta Kappa held its annual Texas Leadership Conference as a virtual event October 15-17th. District III Vice-President, Cade Bennett of NTCC and fellow members of the Texas Regional leadership team planned and coordinated the event with an art-inspired theme, featuring guest speakers, virtual fellowship events, seminar group discussions, and other bonding activities.
"It was a joy being able to help coordinate and plan an event that we know impacted and inspired so many people in amazing ways.  I had a blast being able to speak with many of the advisors and members, and I can't wait to do so again," said Bennett.  
Alpha Mu Chi, NTCC's chapter of Phi Theta Kappa, had four registered representatives at the conference. Including Bennett, other attendees were Chapter President, Brian Ramirez, and chapter Vice-Presidents, Israel Perez, John Rodriguez, and Jordan Chapin    
This year, attendees were able to take a strength assessment through Gallup, which identifies an individual's top five strengths.  The assessment measures talents, natural patterns of thinking, feeling and behaving, and categorizes them into the 34 CliftonStrengths themes.  Guest speakers included Dr. Sherry Boyd who provided training to help listeners understand the CliftonStrengths assessment results.  Chris Butsch shared his Virtual Leadership Toolkit to help chapters to stay engaged while meeting remotely.  During the third general session, Dave Hilton spoke about personal default conflict styles and how to effectively manage them.  Attendees learned about effective tips to resolve conflicts in their chapters and in their personal lives.  Randy Anderson shared ways to improve leadership effectiveness during the fourth general session.  The conference ended with speaker Jasmine Williams and strategies on how to deal with hurdles and remaining intentional when approaching them.  
"I really enjoyed listening to Dr. Boyd during the first general session. She shared a lot of insight, and had us do activities that challenged our perspectives, " commented John Rodriguez, Vice President of the chapter.  "She really reinforced the idea of focusing on our strengths instead of our weaknesses, and made it clear that we each knew that our set of strengths are unique to us." 
After listening to these thought-provoking general session speakers, attendees divided into smaller seminar groups to discuss the ideas presented, allowing members from across the state to get to know one another better and share ideas. Additional fellowship opportunities allowed attendees to play games and bond.
Towards the end of the conference, the Walter B. Cooper Scholarships were announced. Alpha Mu Chi members, Maxime Risner and Brian Ramirez, won two of the five scholarships awarded.
To learn more about Phi Theta Kappa, the world's oldest, largest, and most prestigious honor society for two-year colleges, founded in 1918 and currently in the United States and ten other nations, check out www.ptk.org.