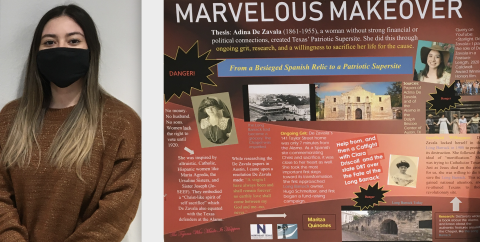 April 16, 2021
Pictured: Maritza Quinones and her poster.
By: Dr. Andrew Yox, Honors Director
The Thirteenth Annual McGraw-Hill Poster Contest is set for Friday, May 7th at 9:30 a.m. in the foyer of the Whatley Center for the Performing Arts at Northeast Texas Community College. This contest recognizes and rewards creative student scholarship in Northeast Texas. Area high school seniors, college and university students are welcome to compete. Prizes range from $100 for fourth place to $400 for first place. The first place winner will also receive a $175 coupon for McGraw Hill products, courtesy of McGraw Hill. Community judges will determine a project's contribution to scholarship, the persuasiveness of its author, and the quality of the overall presentation. The student posters must reflect original research performed in this past academic year of 2020-21.
This year's event is beholden to "Santa's Sweeties," a sewing circle attached to the First United Methodist Church of Mount Vernon, who sell large Santa dolls, and use profits to support our area's youth. The event also is receiving financial help for the twelfth straight year from McGraw Hill, one of the three premier education companies in the United States, through Mr. Casey Slaght, of the Dubuque, Iowa office.
This year's scholarship fair on 7 May will again be live, as with all previous contests, from 2007 to 2019, with the exception of last spring's virtual contest. However both contestants and judges will be expected to conform to NTCC's health protocol, based on CDC guidelines. All participants will wear masks, and will make an effort to maintain six-foot distances.
NTCC Presidential Scholars, the top tier of Honors Northeast, have dominated the contest in recent years. In 2011, a non-honors NTCC history major, Jared Adams, won first place. Since then, Isaac Griffin (2012), Stephani Calderon (2013), Noah Griffin (2014) Kayleah Cumpian (2015), Cassia Rose (2016), William Jones (2017), Matthew Chambers (2018), Olivia Griffin (2019), and Karla Fuentes (2020) have won the top prizes. Four of the recent winners were also able to gain extremely competitive national awards such as the Guistwhite, the Jack Kent Cooke award, and the All-USA Team. Eight of the ten most recent winners have also been sophomores.
The 20 scholars of Honors Northeast will compete. Other students wishing to enter the contest should send an abstract of 100 words to Dr. Andrew Yox, Honors Director, at ayox@ntcc.edu explaining why their project represents an original work of scholarship by noon, 5 May. Yox can also offer advice and help regarding posters and protocol for the one-hour contest. The winners will be announced at 11 a.m. in the Whatley Foyer on 7 May, soon after the judging.
Visitors are welcome to learn from the contestants. Admission is free. Anyone wishing to participate should contact Dr. Yox at ayox@ntcc.edu or 903-434-8229. The winners of previous poster contests and a video to help judges better prepare for the event can be found at www.ntcc.edu/honorsposters.