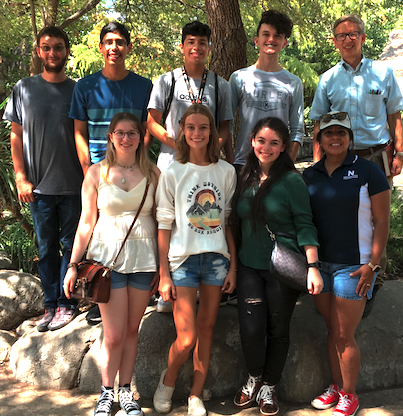 September 30, 2021
By: Dr. Andrew Yox, Honors Director
A tradition initiated in 2008, continued for students of Honors Northeast as they visited a major city, in this case, Fort Worth on Friday, 19 September.  With COVID still a variable, students sat spaced in two large vans, and attended mainly outdoor venues. But because of recent gifts from Drs. Jim and Paula Archer and Don and Margaret Muse, and the willingness of Naomi Deciga, NTCC's Academic Transfer Coach, to drive, the group enjoyed all the traditional delights of an NTCC honors day-trip experience.
Those attending, read like a book above, included: Evan Sears, Raul Leija, John Rodriguez, Cade Bennett, Dr. Andrew Yox, Skylar Fondren, Jordan Chapin, Jessie Parchman, and Noemi Deciga.
The group rendezvoused first at the Greenville Starbucks, before heading on to the Fort Worth Zoo, a Trinity River nature hike, the Woodshed Smokehouse, the cultural district including the Kimbell and Amon Carter museums, a stay at Richard Serra's beguiling, giant-iron sound funnel--the Vortex, a hike and meals through Sundance Square, and a show—the Four Day Weekend, experiencing improvisational humor.
At the Four Day Weekend show, three of the honors guys had their skit suggestions accepted for the performance.  Those three suggestions made up a good portion of the night's performance. John Rodriguez suggested a bank heist, Raul Leija suggested the theme of being sassy, and Cade Bennett suggested a Halloween theme.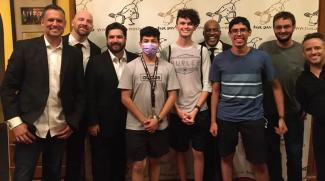 One traditional element of the fall trip was bumped from the program.  With the collapse of the Cornerstone Honors Program at Tarrant Community College, NTCC's group was no longer able to compete against its old rival in dancing or Jenga. The stint at Sundance Square, however, created a unanimous feeling that not only honors, but even smaller groups of students on their own should strive to make that agenda happen in in the future.