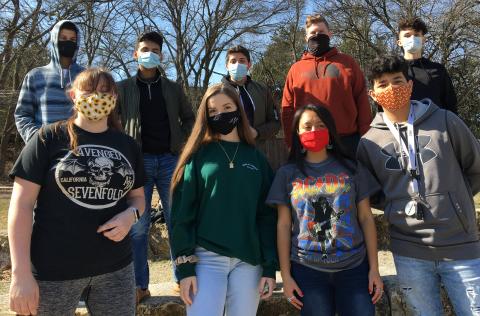 February 4, 2021
Top row (from left) is Jalyn English, Israel Perez, Brian Ramirez, Jansen Laney, Cade Bennett. Bottom row (from left) is Hannah Barnes, Jaidyn Thompson, Carolina Alcocer-Salas, John Rodriguez.
By: Dr. Andrew Yox, Honors Director
Students of Honors Northeast took their 27th biannual trip to Dallas last Friday, 29 February. Because of restrictions relating to COVID, it was the first semester-day trip where students had to drive themselves. Though this may have hampered attendance, the group enjoyed many special amenities. Because of recent gifts from John and Jan Bryan of Naples, and Don and Margaret Muse of Pittsburg, in addition to long-range funding and encouragement from Drs. Jim and Paula Archer, the group enjoyed a traditional, NTCC honors day-trip experience.
The group rendezvoused first at the Greenville Starbucks, and Chick Fil-A for breakfast. Because of restrictions, students met at the Starbucks terrace, but, fortunately, the day turned sunny. Next, the group went to the Heard Wildlife Museum in McKinney to view some of the natural history exhibits, interact with an Asian Forest Tortoise, and hike the Blueberry Lake trail.
The group then headed to Frisco to shop at the Stonebriar Centre, and finally enjoyed dinner and team-building activities at the Andretti Center. The Andretti "karting experience" conceived by racing ace Mario Andretti, was a highlight of the trip. The group donned helmets, and enjoyed a simulated, slower type of formula-one racing. In a laser-tag confrontation, a rogue group of honors students, including the "infamous" quartet of Cade Bennett, Israel Perez, Brian Ramirez, and John Rodriguez, "took out" the honors director, Dr. Andrew Yox. But the women scholars rallied, and together with Jalyn English won the tournament. Jansen Laney dominated duck-pin bowling just as he excelled in real bowling during last year's spring trip.
Honors Scholar Hannah Barnes noted: "we had heard about all the cool things that had happened in other honors trips, so we wanted to experience a trip ourselves." The NTCC administration, though insisting on the group maintaining CDC guidelines, permitted the outing, as they have permitted other honors activities in 2020-2021.