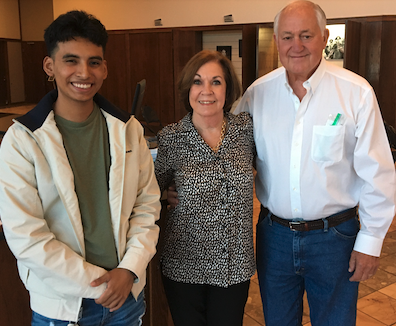 November 18, 2021
Pictured: Israel Perez, Mary Lou and Jerald Mowery.
By: Dr. Andrew Yox, Honors Director
Israel Perez, a Presidential-Scholar sophomore of Honors Northeast, has become the first winner of the Russell-Mowery Perpetual Honors Scholarship. This annual $500 award goes to an honors student who has made significant contributions to Northeast Texas culture and life.
Perez, the scholar behind NTCC's Webb-award-winning film on Bo Pilgrim, will become the first student in NTCC history to publish an article in the Handbook of Texas, the primary resource of the state's history, available online.  Accessed by over 25 million people, the Handbook has become the online authority of state history, monitored by leading experts of Texas history.  Perez's article will be the pioneer biography on Bo Pilgrim for this series.
Perez has also presented his work on Bo Pilgrim and the Protestant Ethic for meetings of the Walter Prescott Webb Society, the Great Plains Honors Council, and the National Collegiate Council (NCHC).  His argument is that Pilgrim was a star example of Max Weber's classic idea, and also a part of a larger Southern fusion of belief and vocation, illustrated in the lives of Mary Kay Ash, S. Truett Cathy, and Sam Walton.  Perez was also on NTCC's film panel at the recent meeting of the NCHC in Orlando, where he discussed the group's research that undergirded the original film scripts of feature-length films on Pilgrim and muscle-car emissary, Carroll Shelby.  Perez also has a major role in the upcoming NTCC film on Shelby where he plays the part of Lee Iacocca, the illustrious former CEO of both Ford and Chrysler. 
Honors Director, Dr. Andrew Yox notes that "we at NTCC are so thankful for this special new scholarship that underlines an important ideal here, that our students can make contributions to local culture.  Israel Perez, a gifted polymath, is also a preeminent example of what our students can accomplish. He has performed brilliantly in his coursework, but also has been a prime mover with our efforts creating regional films in honors.  In the recent Northeast Texas poetry contest, Perez was the first in the 14-year history of the series to attempt "shape poetry."  His award-winning poem, 'Texas Sized Words', provided picturesque descriptions of regional scenes."
Israel is the son of Samuel and Madai Garcia Perez of Mount Pleasant.