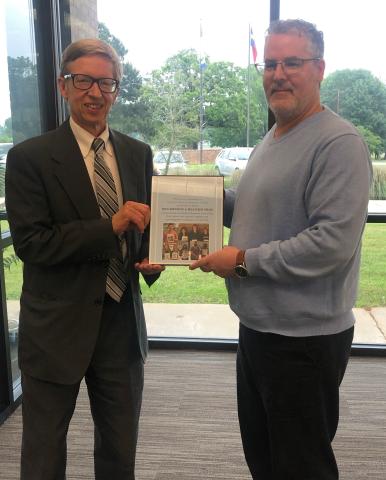 June 11, 2021
By: Dr. Andrew Yox, Honors Director
After one hour and twenty minutes, the recent meeting of the State of Texas Touchstone Editorial Board appeared to reach a critical phase.  Dr. Mari Nicholson-Preuss, a University of Houston Honors Director, and expert in medical history, began to list some problems she encountered in reading two recent student submissions from Northeast Texas Community College.  She concluded her remarks, however, saying, her expertise in this area probably made her too critical, and that Dorali Hernandez's "Progression of Medical Maintenance" still merited inclusion in the 2022 journal.
With that final word, the drama was over.  Three more NTCC student scholars should be published in a regional journal by 2022. In addition to Hernandez's work, Aaliyah Avellaneda's "Texas Ticketsplitter" essay on Mount Pleasant's Bill Ratliff, and John Hernandez's, "The Untold Story of Hispanic Quietism in Texas," also garnered the support necessary for inclusion in the 28 May meeting.  That also meant that the total of NTCC student scholarly publications in such outside journals should reach twenty-five by 2022.
Several factors have helped produce this notable record of student success. One remarkable source of support, however, through the years has been the work of Charlie and Helen Hampton Library staff members, Ron Bowden, and Heather Shaw.   "In the case of the three NTCC students whose essays were just selected, in every case, we received exceptional bibliographical support from our NTCC team at the library," noted Honors Director, Dr. Andrew P. Yox. In each case, we needed colorful details to build essentially untold stories and in each case our library was able to suggest hundreds of sources.
The arrival of the world-wide web has in many ways created a more equalitarian framework for scholarship.  It used to be that Ivy League universities had the only true super-portals to research because of their great libraries.  Who could match the 13 million volumes owned by Harvard University in 1970?  But today, a nineteen-year old on the world-wide web in Pittsburg, Texas, using NTCC's wi-fi at the Hanson Sewell Center, and the NTCC community college portal system can access a billion websites, and ask a trained professional, such as NTCC's Bowden or Shaw for guidance.  The degree of retrieval success also is growing in many respects.  Researchers today can access The Portal to Texas History and pinpoint a gubernatorial visit to some Texas town in 1920.   In 1970 at Harvard, researchers would have had to follow a campaign trail, day after day in old newspapers to find this. But now digital indexes retrieve what once was buried in oceans of irrelevant data.
Avellaneda, Hernandez, and Rodriguez, all Presidential Scholars from Mount Pleasant, will still have to meet a deadline at the end of the summer to complete needed editorial revisions, in order to be published.  But chances are they will join an elite group of eight college and university students from around the state to see their essays in a real cloth journal, published by the Texas State Historical Association, by the spring of 2022.