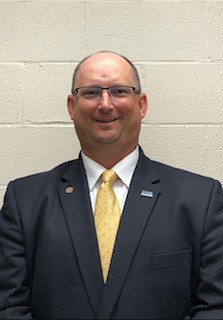 September 30, 2021
Justin Hargrove joined the National Athletic Trainers Association (NATA) in 1995, and has been a licensed Athletic Trainer since 1998 and obtained his National Athletic Trainers Association Board of Certification in 2000. Justin arrived at Northeast Texas Community College as the Athletic Trainer and Instructor of Human Performance in 2017. In February of 2019, Justin added the additional duties of Assistant Athletic Director for NTCC. With the completion of his Master's degree he now he serves as Director of Human Performance in the new Associates of Science Human Performance degree program at NTCC.
Justin is a native of Mount Pleasant, Texas graduating from Mount Pleasant High School in 1994. Justin attended Howard Payne University (HPU) in Brownwood, Texas earning a Bachelor of Science degree in All Level Physical Education in 1998. Justin obtained his Master of Science degree in Athletic Administration from Texas A&M University--Commerce in August of 2019. During his time at HPU, he served as a Summer Intern Athletic Trainer for the Philadelphia Eagles in 1994 & 1995 under the direction of Hall of Fame Athletic Trainer Otho Davis, and with the Dallas Cowboys in 1996. Upon graduation in 1998, Justin served as a Seasonal Assistant Athletic Trainer for the New York Jets for the 1998 Season. Justin has also worked for an Orthopedic Surgeon in Brownwood, Texas, Dr. Marlen Strefling, in a Physical Therapy Clinic in Longview, Texas and the Secondary School Setting (2004-2017) at Mount Pleasant High School as Athletic Trainer.
At Northeast Texas Community College, Justin has built the Athletic Training and Human Performance programs from the start. Both programs had not existed at NTCC prior to his arrival in August of 2017. The Associates of Science in Human Performance has seen tremendous growth in the three years of existence. The Athletic Training program has grown from working off of couches and the back of his truck to a full athletic training facility and a mobile athletic training trailer under his direction.
In his role as Assistant Athletic Director, Justin serves as game day administrator, assist with staff evaluations and hires, writes press releases, works with coaches on NJCAA Compliance, and started and coordinates a weekly coaches show on a local radio station. Justin assist in all aspects of public relations and fundraising for the athletic department.
Justin served on the Southwest Athletic Trainers Association (SWATA) Secondary Schools Athletic Trainers Committee from 2015-2018 and joined the SWATA Public Relations committee from July of 2018-July 2021. In 2018, Justin joined the NATA District 6 AT's Care team as well. In Fall of 2020, Justin began serving on the Sulphur Springs ISD Health Science Advisory Board and the Titus County First Responders Respond Organization Board. In his spare time, Justin serves as a Volunteer Firefighter for the city of Mount Pleasant Fire Department and Captain with the Nortex Volunteer Fire Department in Titus County, Texas. Justin has been married to Kay Hargrove since 2003 and they have two children Devon (wife Raeleigh) and Madison.
For more information about NTCC Eagle Athletics, go to our website www.ntcceagles.com, where you can find up to date schedules, team information and much more.