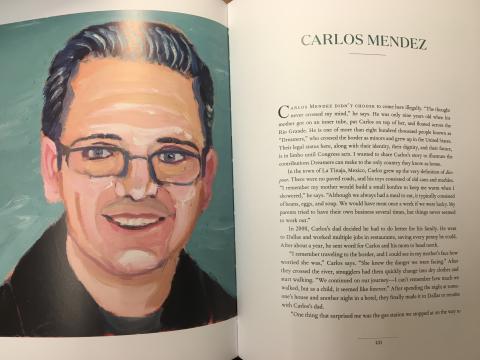 July 9, 2021
By: Dr. Andrew Yox, Honors Director
     The "charm of fame is so great" noted Blaise Pascal, "that we like every article to which it is attached." Former President George W. Bush (2001-2008) recently published an artistic and biographical compendium that the friends of Carlos Mendez will no doubt treasure. The former Texas Governor and 43rd President painted portraits of forty-three living immigrant contributors to American life.  The group includes Henry Kissinger, Arnold Schwarzenegger, Dirk Nowitski, and the former alumnus of Honors Northeast, Carlos Mendez. 
     Mendez, formerly of Mount Pleasant, is currently a process engineer for Visionworks, one of the nation's largest retail optical chains. 
     Bush's portrait evokes the warmth and canny intelligence of Mendez.  The attendant biography leaves little doubt that Mendez reached the apex of his hopes, after a daunting climb.  Living along a dirt road in La Tinaja, Mexico, the family made it to Dallas only to experience a traumatic car accident.  An automobile ran a red light.  Carlos' mother was killed, and his father, disabled.  Father and son moved to Mount Pleasant where the former became a cook, and the latter graduated from Mount Pleasant High School in 2010. They lived in an aluminum garage with a concrete floor.
     Mendez became a Presidential Scholar, a foremost member of NTCC's honors program.  But initially, his involvement in honors remained tenuous.  "I can remember a very important conversation we had with Professor Dr. Mary Hearron," recalls NTCC Honors Director, Dr. Andrew Yox. "Dr. Hearron had first met Mendez when he was a high-school freshman, and had even suggested his soon-to-be-eventful topic for his essay in Texas History. Carlos' immigration status and work schedule made him at first reluctant to fly or to engage in the travel opportunities that the college provided. Dr. Hearron played a very crucial role in encouraging Mendez to take advantage of the possibilities that NTCC provided."
     Dr. Hearron also had a friend who had become a leading donor of Honors Northeast, Karen Harmon.  Harmon, a former engineer, and talented pianist, avidly introduced herself to honors students who exhibited both a special need and ardor in their field.  She has assisted several successful NTCC students and graduates over the years, taking them out to dinner, buying them needed articles at the mall, driving them to campus tours, and even providing opportunities to meet influential role models from the community.  Beyond all this, her contribution record to Honors Northeast, as a program, has been phenomenal, even as she moved to Fort Worth, and recently, Aledo.  Harmon's orchestration of a context for success was itself exemplary.
     For his honors course in Texas History at NTCC, Mendez wrote his fateful article on the celebrity Mayor of San Antonio, and former HUD Secretary of the Clinton years, Henry Cisneros.  This essay was unique in the way it engaged Cisneros' theories of urban development, rather than focusing on the controversies of his career.  Mendez in 2011 thus won a first-place Caldwell Award in the state for this essay, and presented his work at a Houston meeting of the Texas State Historical Association.  As Yox, Mendez, and two other honors students planned this travel, Yox sent Mendez's article to Cisneros.  Cisneros agreed to meet the group for breakfast in San Antonio, on their way back.  Thrilled, Mendez, and Yox waited for Cisneros at an exclusive San Antonio restaurant, but Cisneros never appeared. The two shed their good clothes, checked out of their hotel and left.  The NTCC group was driving north of San Antonio on I-35 to return to Mount Pleasant when Carlos' cell phone, made possible through Harmon, ringed.  It was Cisneros.  He apologized for his absence and encouraged the group to return to San Antonio.             
     Cisneros atoned for this inconvenience in a very big way.  He had read Mendez's essay with interest, and even accepted the poster Mendez had compiled on the essay for the meeting of the National Collegiate Honors Council.  He noted later that "no journalist or analyst" had better conveyed his ideals for the modern city.  Cisneros convinced Mendez to apply to the engineering school at the University of Texas-San Antonio, and promised to help Mendez in other ways.  When Cisneros became more and more serious about the offer, Harmon again stepped into the picture, writing a letter and sending flowers to the Cisneros family, eventually meeting them.  Cisneros then not only provided a room for Mendez as he matriculated at UTSA, he provided a sizable monthly stipend.  Mendez excelled, graduated with an 'A' average, and accepted a position with a company that made parts for Toyota. 
     Today Carlos is on the road to citizenship and is married to Jessica, who he met in San Antonio.  Bush writes in Out of the Many, One (New York: Crown Publishers, 2021), p. 133:  "When I think about Carlos, I marvel at what he overcame in life and the joy with which he did so.  I think about his parents and what they risked to give Carlos a better life.  And I think about people like Henry . . . and Karen who helped Carlos thrive in this new land."