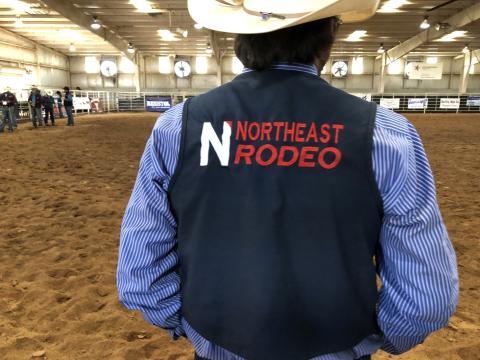 February 4, 2021
By: Justin Hargrove, Assistant Athletic Director
Northeast Texas Community College Rodeo was back in the saddle last weekend to start off the 2021 semester with a Rodeo hosted by Texas A&M University Commerce. The event was held at the Hopkins County Civic Center in Sulphur Springs, Texas.
Garrett Fields was a bright spot for the Eagles with earning a seventh place finish in Steerwrestling.
Collegiate Rodeo athletes compete in the same events that you see every weekend across America with Professional Rodeo.
NTCC competes in the Southern region of the National Intercollegiate Rodeo Association with Hill College, Louisiana Tech University, Louisiana State University-Alexandria, McNeese State University, Panola Junior College, Sam Houston State University, Southwest Texas Junior College, Stephen F. Austin University, Texas A&M University, Texas A&M University-Commerce, Texas A&M University-Kingsville, Trinity Valley Community College, and Wharton County Junior College.
The Eagle Rodeo team will be off this weekend before heading to Trinity Valley Community College in Athens, Texas February 12-13.