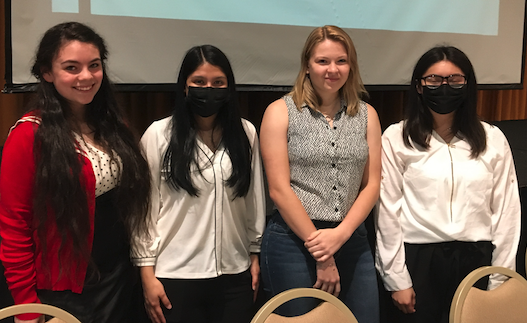 October 26, 2021
Pictured: Parchman, Hernandez, Risner and Avellaneda at the conclusion of their panel.
By: Dr. Andrew Yox, Honors Director
NTCC scholars gained significant traction last year interviewing local professionals such as Cynthia Amerson, Dr. Karen Koerber-Timmons, and Dr. Kathy Carter, acquiring significant perspectives in medical and veterinary fields. Their research, honed through a series of presentations at the Texas Webb Society, Great Plains Honors Council, and the McGraw Hill Poster Contest produced areas of expertise valuable enough to be conveyed to an audience whose average member was probably three times their average age.
Aaliyah Avellaneda, of Mount Pleasant, the winner of a first-in-the-state Caldwell Award last spring chaired the meeting. Maxime Risner from Winnsboro presented first on the decline of rural veterinarians. Her lively stories on a veterinarian-charging bull, and the attempted birth of a calf on a rainy night showed why she placed second in the spring McGraw Hill poster contest. Risner argued that a new value structure in society, including the human infatuation with small animals was encouraging an unprecedented disenchantment for big-animal care. Dorali Hernandez of Mount Pleasant, winner of a fourth-place Caldwell last spring, was next with her work on nurses at the end of the twentieth century. Despite rampant continuing education demands, new regulations, rapid technological change, and increasing acuity rates, nurses such as Timmons, and Amerson showed that modern nurses could balance change, and family, while continuing to uphold the ideal of wholistic care. Finally, Jesse Parchman, from Mount Pleasant presented her work, begun only last summer on the sudden surge of medical dependence in Texas in the 1970s. Parchman may have been the youngest student yet to have presented at the ETHA, as she is both a senior at Chapel Hill High School, and a Presidential Scholar at NTCC. She noted that Texas previously lacked a reputation for medical excellence, but a confluence of changes in the family, medicine, and women's outlooks created a modern boom in medicine, and the birth of a "medical Jerusalem," the Texas Medical Center in Houston.
After almost two years of COVID-19, the audience appreciated this youthful input into what is also a young field. The Texas Handbook, a key repository of information about Texas History, recently launched a whole new subsection of medical history. Questions ranged from issues concerning the mistreatment of nurses, to the attitudes of physicians to other medical personnel, the COVID experience, and the realities of continuing education in the modern age.
NTCC Honors Director, Dr. Andrew Yox, another member of the audience noted, "our scholars each presented nicely conceptualized essays, and each had a special flair that kept everyone engaged in the session until the end. Avellaneda provided terse, professional introductions, and kept the discussion moving, avidly sharing the movable mic with members of the audience. Risner was the story teller, Hernandez a participant in the COVID drama who could also speak from experience, and Parchman, the analyst who was willing to introduce a big idea. I was particularly struck by the poise of the NTCC presenters before an audience that included current professionals working both in academics, and medicine."
NTCC's twenty honors students are averaging about thirty scholarly presentations a year in collegiate, honors and professional conferences. For more information about the program contact ayox@ntcc.edu or visit the website of Honors Northeast at www.ntcc.edu/honors.