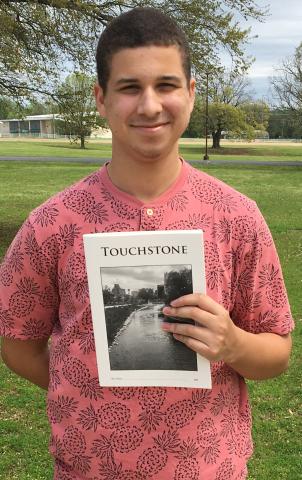 April 9, 2021
By: Dr. Andrew Yox, NTCC Honors Director

The pandemic had a way of delaying initiatives. But the 2020 issue of Touchstone, one of the most venerable undergraduate journals in the United States, finally has appeared in April, 2021. Published by the Texas State Historical Association, Touchstone has appeared continuously since 1982 in real form, and since the 1990s on high-quality cotton-stock paper, designed to last.

Two former Presidential Scholars published articles in this issue, and the college's current Whatley Scholar, Jalyn English (left), published a ten-page Webb Society report.

The journal includes the first- and second-place winners of the 2019 Caldwell Memorial Awards for the best freshman-sophomore essays in Texas history. Olivia Griffin, the fourth member of one homeschooled-family in Pittsburg to enter Honors Northeast, received a first-place award, and has the first essay in the journal. Her work on Americans-with-disabilities activist Justin Dart was the first to establish the Texas cultural context behind the passage of the ADA in 1990. Recent Jack-Kent-Cooke winner, Daniel Landaverde also published his pioneering article on Mount Pleasant's Hispanic community. This was the first published article to establish a basic chronology and story of an ethnic community that now comprises 55 percent of Mount Pleasant's population.

Jalyn English's meticulous report covers a year in the life of NTCC's Webb Society, particularly the making of its Caldwell-Award winning film on Barbara Conrad. This essay features nineteen images, including pictures of over thirty NTCC Scholars, past and present, action shots of NTCC's film-making, poster contest, and honors trips. The essay also contains an extensive quotation of a winning poem of the Northeast Texas Poetry Contest by Mercedes Collins. Appropriate to the historical slant of the journal, Collins' poem described an old hall built by slaves between Cass and Morris counties.

The journal also includes other essays by collegiate scholars throughout the state. One essay by a San Antonio upperclassman about the Texas tick wars alludes to a violent clash between the Texas Rangers, and Cass County cow-owners in 1919, over the forced use of dipping vats. Another article details the partnership of Marvin Watson and Lyndon B. Johnson. Watson, was a prominent citizen of Daingerfield in the 1950s, a Vice President of Lone Star Steel, and a Chief of Staff for President Johnson.

Anyone interested in obtaining this year's Touchstone should write Dr. Andrew Yox, the NTCC honors director at ayox@ntcc.edu, or contact the Texas State Historical Association.