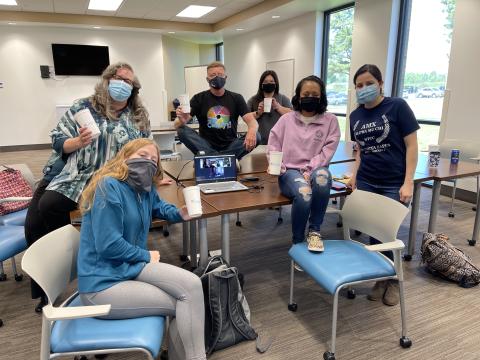 April 16, 2021
PTK Catalyst, Phi Theta Kappa's international convention, was open as a virtual streaming event this year on April 8-10, including six general sessions, educational forums, and virtual booth explorations for career and college transfers.  Aside from amazing keynote speakers, such as those featured this year including, Platon, a world-recognized photographer, and Heather McGowan, Future of Work Strategist, chapters look forward to the Hallmark Awards, which recognize chapters, advisors, college leaders, and members throughout Phi Theta Kappa's 1,285 chapters.   
This year Phi Theta Kappa offered chapter registrations, which registered all advisors, members, and alumni with a fee determined by chapter size.  The registration came with a Limited Edition Watch Party Pack, including five PTK Catalyst 2021 pins, five Catalyst t-shirts, and other branded items.  Members donned the gear, enjoyed chili, courtesy of Vice President, James Buckley, and gathered to watch the first general session together.  Cade Bennett, recently elected to serve as a Texas Regional Officer, delivered his welcoming speech live via Zoom during a regional pep rally.   
After the convention ended, Cade commented "Seeing not just the awards our chapter won, but the hard work and dedication that shined through with all chapters was truly something special.  Catalyst was an amazing experience, as PTK never fails to make me extremely proud to be a member."
"There have been so many positives that have come as a result of the pandemic, and one of this is the ability to attend Catalyst virtually, because I would not have been able to afford to attend otherwise," said Elisabeth Lively, chapter officer.   
Alpha Mu Chi, Northeast Texas Community College's chapter of Phi Theta Kappa, was among those recognized at the international level.  The following recognitions have been won by the chapter in previous years, but never all together, making for an unprecedented, record-setting year despite the challenges.  The chapter was named a Top 100 chapter and then among the upper tier of those, as a Distinguished Chapter.  The chapter also received a Distinguished Honors in Action Award for its project "To Turn a Blind Eye: Inaccessibility Awareness" and a Distinguished College Project Award for their efforts to bring a counselor on campus.  Distinction awards were reserved only for the 50 top ranking submissions.   
The chapter owes a huge part of its success to the dedication and leadership of chapter president, Carolina Alcocer-Salas.  "I am beyond proud of the hard work our members and advisors put into helping our chapter reach its goals for the year.  I am delighted to be a part of this amazing group of people," said Carolina.       
Chapter members also celebrated and honored Jacob Lambie, who ended his term as International Vice-President of Division II, a first for the chapter.  Jacob worked with four other international officers during his term to impact the mission, strategic plan, and vision of the organization, while participating at local, regional, and international events.  Five new students were elected during PTK Catalyst 2021 to represent more than 240,000 active members as International Officers for the 2021-2022 academic year.  Jacob had the honor of inducting Sadokhat Khakimova of San Jacinto College in South Texas as the new Division II International Officer.   
"Serving as an international officer was the experience of a lifetime, even if it turned out to be a year that no one was expecting. Representing students across the world was such an amazing opportunity and privilege. I may have been the first international officer to come from NTCC, but I know I won't be the last," said Jacob.   
Two Alpha Mu Chi advisors, Dr. Matthew Lampert and Andrea Reyes, were awarded the Paragon Award for New Advisors during the convention.  Advisors with less than four years of service are nominated for this award by their chapters; award winners are selected among all chapter submissions by Phi Theta Kappa headquarters.  This year, the award was limited to only 20 advisors.  
"In trying times, our chapter has really managed to have an incredible year. Our active attendance really dropped as soon as COVID hit, but the core active group really took up the slack! They came together to pull off a really incredible Honors in Action project, and they have taken on one of the most ambitious College Projects I've ever seen. So it was really nice to see all of that hard work recognized at this year's Catalyst; it was a chance to reflect on all the hard work they've put in, and it's going to serve as an inspiration to do even better in the year ahead," said Dr. Lampert.  
Founded over 100 years ago, Phi Theta Kappa is the oldest, largest, and most prestigious honor society for two-year colleges. PTK has four Hallmarks: Leadership (give opportunities for leadership experience and character development); Scholarship (recognize those who excel academically and strive to reach a higher level of learning); Fellowship (gather a community of like-minded individuals who share ideas and ideas); and Service (emphasize service to others, both on college campuses and in their communities).  
For more information on Phi Theta Kappa check out www.ptk.org or contact lead advisor Dr. Melissa Fulgham at mfulgham@ntcc.edu. Alpha Mu Chi is NTCC's chapter of Phi Theta Kappa and more information about chapter activities can be found at https://www.facebook.com/alphamuchi.