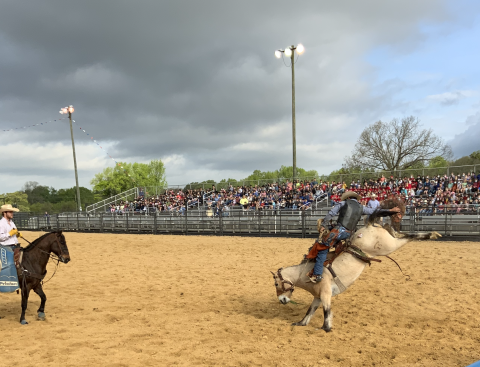 April 9, 2021
By: Justin Hargrove, Assistant Athletic Director
The Northeast Texas Community College Rodeo team put on a Rodeo for Titus County Elementary school children on Tuesday, April 6th. The student athletes from the NTCC Rodeo team held the event at the Mount Pleasant Priefert Arena located at the Mount Pleasant Rodeo Association complex on Greenhill Road.
The Rodeo team was joined by announcer Bo Rester of Bo Rodeo Productions, Mark Evans clown, and Wing Rodeo providing the animal athletes to put on the event for area schools.
The students were treated to a full schedule of events including Bareback riding, Saddle Bronc riding, Tie Down Roping, Break Away Roping, Team Roping, Barrell Racing, and Bull Riding along with entertainment from Rodeo Clown Mark Evans. A few teachers from several schools got a chance to help entertain the students with the clown in between events.
Northeast Texas Community College competes in the Southern region of the National Intercollegiate Rodeo Association with Hill College, Louisiana Tech University, Louisiana State University-Alexandria, McNeese State University, Panola Junior College, Sam Houston State University, Southwest Texas Junior College, Stephen F. Austin University, Texas A&M University, Texas A&M University-Commerce, Texas A&M University-Kingsville, Trinity Valley Community College, and Wharton County Junior College.
The Eagle Rodeo Team has two Collegiate Rodeos left this season, NTCC will head to the Wharton County Junior College Rodeo in Wharton, Texas April 16-17, and will be in Athens, Texas May 7-8 for the final Rodeo of the year at Trinity Valley Community College.