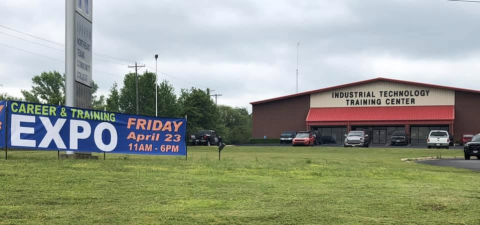 April 16, 2021
Don't forget to save the date for the upcoming Career and Training Expo on Friday, April 23 at the Industrial Technology Training Center (westbound I-30 service road in Mount Pleasant before Lowes). Please help spread the word to anyone you know who might be interested in any of the programs NTCC has to offer. Everyone is invited!
Many thanks to the Mount Pleasant Economic Development Corporation (MPEDC) for sponsoring the event. Here is what you can expect that day:
Meet with representatives from NTCC programs including GED/ESL, workforce training, health sciences and university transfer
Opportunity to meet with advisors and apply for NTCC during the event (computers available)
Financial aid counselors available to discuss options to help you pay for college
Job fair featuring representatives from: Priefert Manufacturing, Diamond C, Newly Weds Foods, Mid America Pet Foods, Big Tex, IMFAB, Pilgrims/JBS Foods
Workforce Solutions booth
There will be FREE FOOD, FREE T-SHIRTS and two major PRIZE GIVEAWAYS (A Pitt Boss Pellet Grill and Tory Burch Handbag).