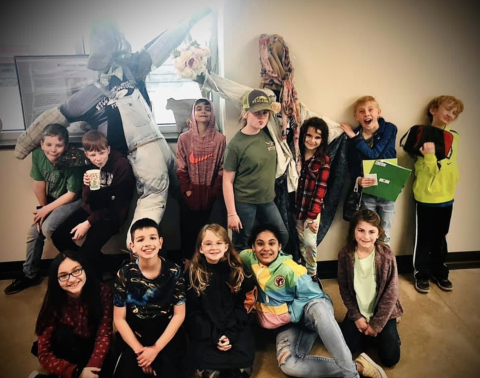 April 2, 2021
By: Rene' McCracken
Farm based education is seeing a resurgence as a unique experience for families to learn more about where their food comes from.  This is especially true for Northeast Texas Community College Sustainable Market Farm. McCracken first learned of the "farm based education" options at a farm conference in 2019 and became a member of the national organization: Farm Based Education Network https://www.farmbasededucation.org/ to share resources and learn how to incorporate experience based content into the college offerings.
NTCC Ag partnered with the Continuing Education Department in 2020 to offer the first Life on the Farm Spring Break Camp produced 10 campers and 4 days of lasting memories right before the lockdown. Camp was offered to students' ages 8 to 16 years of age with an interest in gardening/farming or love of animals.
Later, the continued partnership of Agriculture and Continuing Education has produce a framework of Agriculture Community Education or ACE course options for the community with the added talents and skills of adjunct and Agriculture CE coordinator, Cyruss Ragsdale. Courses such as A Farmhouse Thanksgiving, Farmhouse Christmas Décor and Gardening CE courses have been popular workshops that have done well.
In 2021, the spring break looked different than before but the interest was still there to host the second annual Life on the Farm Camp for Kids.  Once again, the camp was offered to area youth as an alternative option for spring break activities. There were 14 kids from 8 to 14 who made memories, friends and learned all about: raising backyard chickens, meat goats, planting seeds and growing vegetables.  They also learned that farm fresh eggs are best and homemade biscuits can be the best thing to put their homemade jelly on.  Ragsdale and McCracken served as instructors; along with volunteer students and workampers who made sure that each student made memories and not a mess on NTCC Farm. 
Parents were not left out and benefited from the camp as most chose the opportunity to have spring cleaning and others working while their kids "had the best time!"  In fact, many parents asked if additional farm based camps would be offered during the summer.  York and McCracken are working to plan and offer just such an option during the Kids College series of courses this June 2021.  Disclaimer, while as instructors are happy to have helped create and inspire a new generation to have an appreciating and love of farming and animals ~ we do not "claim responsibility" for those kids who now want to add goats, chickens and gardens in their backyards!
While it is true that the kid's camp has received great attention, the true potential of the overall ACE courses and workshops are just beginning to be seen!  Ragsdale has become known by his students or "fans" to be inspirational and his creative classes are quickly becoming coveted experiences for our community as a whole. Perhaps a "happy" consequence of COVID is the resurgence of interest in growing gardens and raising poultry and livestock.  Thankfully, the NTCC Farm has just the right blend of resources and instructors to offer up the timely workshops and training that is especially needed during this time.
Upcoming ACE Courses: Tiny Gardens and Spring Pruning and Replanting Workshop!