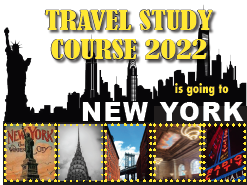 September 30, 2021
Are you interested in traveling to New York City and getting college credit at the same time? If so, you don't want to miss an upcoming meeting about the 2022 Travel Study Course. A group of NTCC faculty members and students will be traveling to NYC May 21-25, 2022. An informational session about the trip will be held on Thursday, Oct. 7 in Humanities 107 at 12:30 p.m.
Participants will have the opportunity to earn credit for courses in history, government, English, communications, art appreciation and photography while they explore the history and culture of America's largest city.
Enrollment is limited, so sign up early if you would like to attend. Some spots may be available for community members who wish to participate without enrolling in classes. For more information, contact Mandy Smith at 903-434-8256 (msmith@ntcc.edu) or Rex Allen at 903-434-8235 (rallen@ntcc.edu).