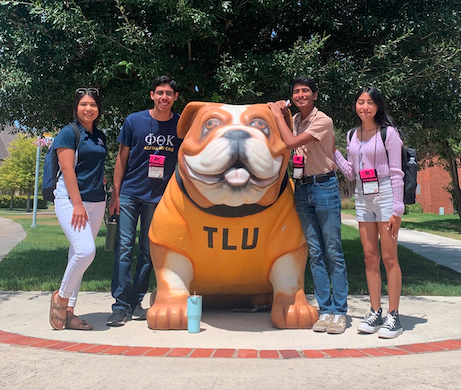 July 25, 2022
Members of Alpha Mu Chi, Northeast Texas Community College's five-star, award-winning chapter of Phi Theta Kappa, attended and participated in the Texas Honors Institute held at Texas Lutheran University July 15-17. The conference theme was "Level Up: Choose Your Own Adventure."
Chapter President Fatima Fuentes commented that "Being given the ability to attend the 2022 Texas Honors Institute was special. Our chapter was able to get to know more of each other and create a comfortable team environment. The event was informative and also amusing. It opened a window for the art of creativity in science." 
Students stayed in the dorms on campus and enjoyed a variety of activities, including General Sessions with guest speakers such as Dr. Blake Ellis, "Art and Science of Play" and Evan Austin, paralympic Gold and Bronze olympist "Wait for Gold: Sacrifice, Failure, and Resilience." The last General Session included a highly interactive Drum Cafe presentation.
Victor Diaz, Chapter Treasurer noted "Getting the opportunity to attend the Texas Honors Institute was a great way to learn more about what Phi Theta Kappa has to offer for it community. Not only was it fun, but it was also educational."
Attendees broke into smaller Seminar Groups in order to discuss the presentations and reflect on the institute themes with fellow Phi Theta Kappa members. NTCC students also co-presented a workshop with Paris Junior College on the topic "PTK 101."
Raul Leija, Chapter Vice President, commented "THI was a blast! I had so much fun meeting like-minded individuals. The general sessions had interesting speakers and captivating ideas. Since it was my first THI, I didn't know what to expect, but I was blown away regardless. I met some amazing people! I enjoyed my seminar meetings, led by District IV coordinator Dr. Dupree (from Lone Star College - Tomball), and getting to work with Celia, the president of the Paris Junior College chapter. I'm grateful I had the opportunity to go to the 2022 Texas Honors Institute."
Other events included district meetings, a door decorating contest, open mic/game night, snow cones, outdoor games, a dance, and a college fair to learn more about scholarship opportunities available to PTK members. The three day event allowed the Texas Region members of Phi Theta Kappa to network and meet fellow members from colleges throughout the state.
Incoming Phi Theta Kappa chapter member Michelle Calderon noted "My first experience with PTK was an unforgettable one. THI was educational and entertaining! I'm extremely thankful to have been able to attend and get the chance to meet members from all around the state of Texas who were very welcoming. I also had the fortune to listen to inspiring speakers. In addition to making new friends, my time at THI allowed me to bond with the 2022 Alpha Mu Chi officer team and grow closer as a chapter."
The Texas Regional Officers work with the Phi Theta Kappa Texas Regional Leadership team to plan, prepare, and present regional events throughout the year. NTCC student Jordan Chapin currently serves as the Phi Theta Kappa Texas Regional President.
Chapin commented "Wow! I've been to regional events before as a guest, but running the event is a completely different experience. I definitely had my moments where I was stressed and overwhelmed, but none of that mattered because I was so glad to see how much everyone enjoyed Texas Honors Institute. My favorite part was the third general session where Evan Austin was the speaker. His story was so inspiring! I'm so thankful for all of the new friends I made and for all of the memories."
Running the event requires a significant amount of public speaking at the event as well as months of intensive planning and preparation ahead of time. The Texas STAR Scholarships were given out at the end of the event. Jordan Chapin received the Dr. Mary Hood STAR Scholarship, the highest award given. Raul Leija received a Texas STAR Scholarship.
Phi Theta Kappa Honor Society's four hallmarks, Scholarship, Leadership, Service, and Fellowship help members develop skills to benefit themselves, their college, and their community. For more information on Alpha Mu Chi, NTCC's chapter of Phi Theta Kappa, email ptk@ntcc.edu or contact Chapter President Fatima Fuentes at ffuentes130@ntcc.edu or email chapter advisor Dr. Matthew Lampert at mlampert@ntcc.edu.