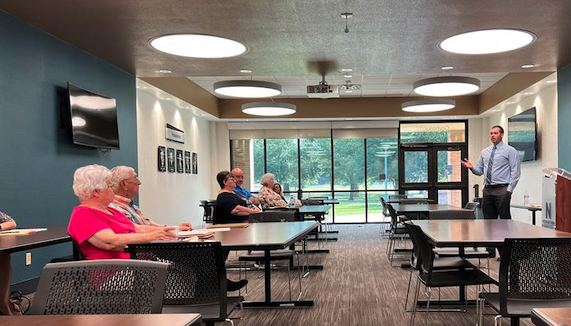 June 23, 2022
On Friday, June 17th, NTCC's Continuing Education Department held a Senior Adult Legal Workshop on campus with Wyatt Hinson, Attorney at Law as the Guest Speaker. Topics discussed were estate planning, medical decisions, wills, durable power of attorney, medical power of attorney, living will, declaration of guardian, Lady Bird deed, and complications of probate.
To learn about other unique learning opportunities with the NTCC Continuing Education Department, visit www.ntcc.edu/continuinged or call 903-434-8134.
Wyatt Hinson is an attorney practicing in Mt. Pleasant, Texas, and the surrounding counties. Wyatt was born and raised just North of Mt. Pleasant in the Greenhill Community. After graduating from Mt. Pleasant High School in 2013, Wyatt attended Texas A&M University in College Station, Texas, where he received a BA with honors in Mathematics. Following undergrad, Wyatt was accepted to Texas A&M University School of Law where he received his JD. Wyatt's practice focuses primarily on Real Estate, Estate Planning, and Probate Law. Wyatt is married to Callie Hinson and they have four children.