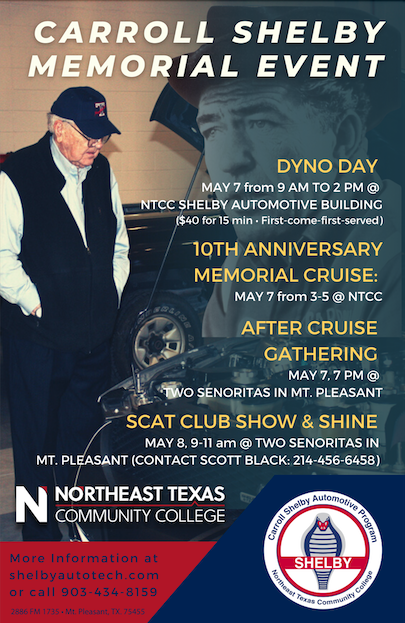 May 6, 2022
The NTCC Carroll Shelby Automotive Program will honor the memory of Carroll Shelby this weekend with several events. The festivities will kick off with a Dyno Day on Saturday, May 7 from 9 a.m. to 2 p.m. at the Shelby Automotive building on the NTCC campus. Anyone who wants to test out the performance of their vehicle is welcome. The cost is $40 for 15 minutes on the Dyno machine, first-come-first-served.
Following the Dyno Day will be a 10th Anniversary Memorial Cruise on Saturday from 3-5 p.m. The ride will begin at NTCC and will go through Shelby's hometown and to his gravesite in Leesburg.
An After Cruise Gathering will be held at Two Senoritas restaurant in Mount Pleasant at 7 p.m.
The SCAT Club will host a Show and Shine event on Sunday, May 8 from 9-11 a.m. in the Two Senoritas parking lot.