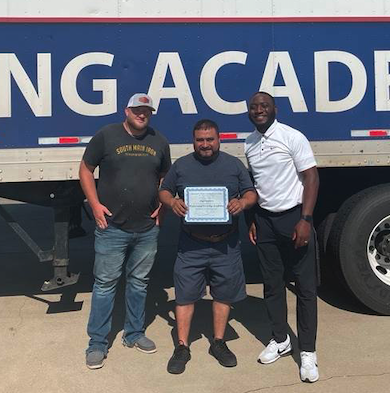 July 5, 2023
The Northeast Texas Community College Professional Driving Academy continues to grow and supply high-demand CDL drivers to the local area. One new student recently graduated from the program. Pictured (from left) is: Aron Farley (Instructor), graduate Angel Ramirez, and Jimmy Smith (Director of Continuing Education and Corporate Training).
The four-week professional driving academy includes 160 hours of training and the cost includes the DOT physical, drug screen, MVR and CDL permit. Students spend 50 hours in the classroom and 110 hours on the road driving. The cost is $4,191 and financial aid may be available.
To sign up or for more information, please call 903-434-8134 or e-mail continuinged@ntcc.edu. You can also learn more at www.ntcc.edu/continuinged. Students must be at least 18 years of age and able to pass a DOT physical, drug screen and MVR check.