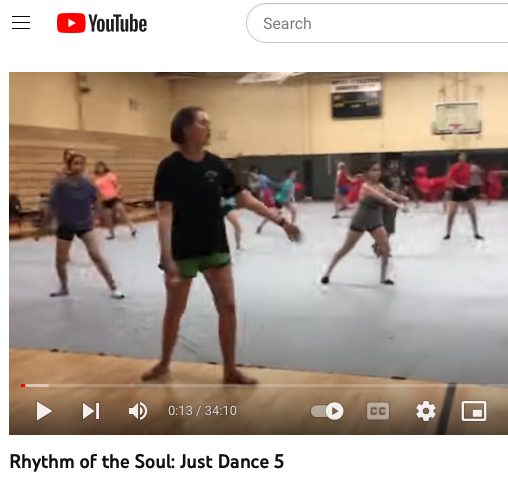 January 24, 2023
Alpha Mu Chi, the Northeast Texas Community College chapter of Phi Theta Kappa, has released a documentary video about dance as an international art form. The video, entitled "Rhythm of the Soul: Just Dance 5," is available to view online by clicking here.
The documentary was shot and edited by members of the Phi Theta Kappa chapter, and was made possible by a generous grant from the Andrew W. Mellon Foundation. The video features footage of a variety of international dance forms, along with a number of dances performed by local colorguard groups. "Colorguard is significant to me because it gives me a vessel in which I can express myself creatively," says Victor Diaz, the film's editor. "Dance not only lets me move freely as I want, but it has also turned me to be a more outgoing person. Thanks to colorguard, I was able to escape the shyness which imprisoned me in my own body."
The purpose of the video is to demonstrate a variety of the forms of dance in the world, from the competitive dancing done by colorguard groups and dance teams, to the religious and ethnic folk dances of peoples across the world, to highly refined dance forms like ballet. The video argues that all of these disparate forms of dance are art, and that this artform unites every culture and religion in the world. As chapter member Paisley McGee explains, "Dance is a form of expression that differs from location to culture, but it's a great representation of its people and the heritage that comes with it. From the use of drums found in the Zaouli Mask Dance to the use of a piano in ballet. . . . Through dance, there's an endless tunnel that serves as a way of communication and storytelling."
"Rhythm of the Soul: Just Dance 5" was completed by Alpha Mu Chi as part of their annual "Honors In Action" Project. The Honors In Action project is intended to combine academic research, community collaboration, and action-oriented problem solving within a year-long project undertaken by the entire chapter. The Honors In Action theme, set by the Phi Theta Kappa organization, is "Play." Phi Theta Kappa is the international honors society for junior and 2-year colleges. The NTCC chapter of Phi Theta Kappa, Alpha Mu Chi, meets every Monday at 12:30 in SUB 101. Membership is by invitation only, but the chapter welcomes all students who are curious and interested in participating to attend meetings and get involved.