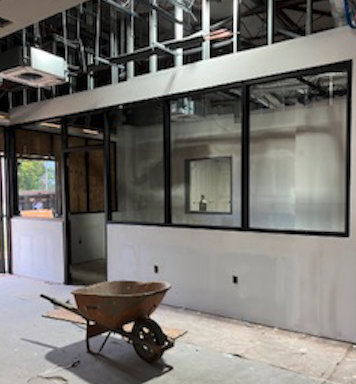 July 5, 2023
Pictured: A recent shot of the inside of the new simulation center located on the north side of campus. 
It is officially summer at Northeast Texas Community College and the campus is buzzing with activity. This week's Summer Spotlight feature isn't a program, but rather an update on all of the campus improvements taking place this summer.
NTCC currently has three major projects underway:
Simulation Center - The old PFA building (next to tennis courts on the north side of campus) is being converted into a state-of-the-art simulation lab with an ambulance portico, triage bays and treatment rooms. The work has been many years in the making and involves the complete removal of the interior surfaces and their replacement with state of the art finishes and equipment.  The goal is to have completed the project before school starts in August. The Simulation Center is a much-needed expansion that will benefit all of the NTCC Health Science Programs and will even provide access for healthcare partners in the community to utilize the space for staff training.

HVAC upgrade equipment.

HVAC Upgrades - The campus commitment to student and staff health is once again being demonstrated by an $1.7 million dollar investment in upgrades to the heating and air conditioning systems which will result in significantly improved indoor air quality.  The work not only includes the replacement of equipment in Student Services, Humanities, Math Science, SUB, Business Technology, Instructional Annex, Shelby Automotive, Criminal Justice, Vocational Technology and University Health Science, but also energy saving controls to manage the new equipment.  SS, Hum, MS and the SUB are complete with work beginning in BT next week.
Shelby Automotive Expansion - As the transportation industry changes with an emphasis

New Shelby addition.

on electric vehicles so does the demand for trained technicians to service the new vehicles.  The Carroll Shelby program is committed to providing this labor force by expanding its facilities. Additional classroom/shop space is being added behind the existing Shelby building this summer. It will be a shared space that will primarily be used by the electric vehicle and auto body repair programs. The project is nearing completion and should be up and running for fall 2023 classes.