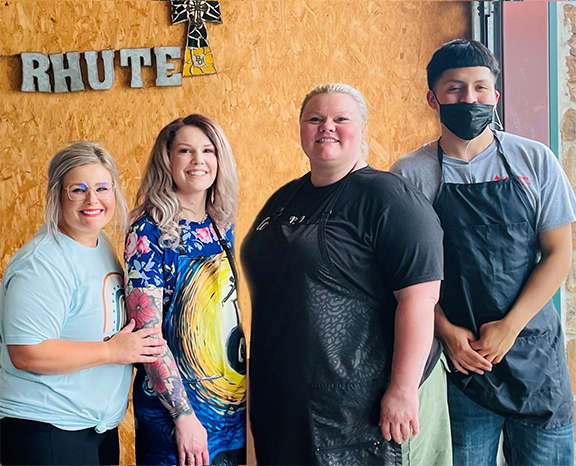 Representatives from the NTCC Cosmetology Program recently visited local non-profit, Rhute Haven, to provide haircuts for homeless individuals. Pictured (from left) is instructor Necah Posey and students Elizabeth Isbell, Crystal Carpenter and Alejandro "Dro" Barcenas.
Despite the fact that the event was held the day after spring commencement, the new cosmetology graduates were happy to lend their skills for a good cause. While the turnout wasn't as high as they hoped, students were able to help one client that day.
"The individual we were able to help was so grateful and kind, she loved her new haircut and was excited to talk with the students and I. Overall this experience was really awesome, especially since I was able to have students there helping and working with those less fortunate," Posey said.
Rhute Haven, located in Mount Pleasant, is a place of rest for people living on the streets. They provide resources like shower facilities, food, daytime shelter, supplies and counseling to help those less fortunate in our community.
To learn more about the cosmetology program at NTCC, visit www.ntcc.edu/cosmetology. They are currently accepting applications for the Fall 2021 semester.