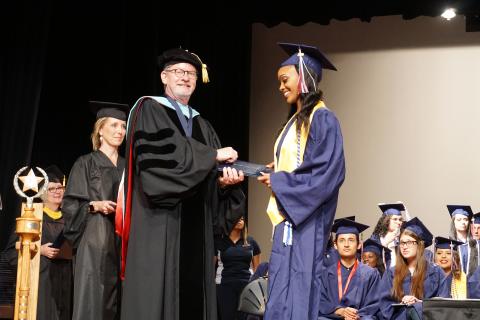 Congratulations to the Northeast Texas Community College class of August 2019! You have worked hard and we are looking forward to celebrating your accomplishment at our commencement ceremony this Friday, Aug. 16 at 7 p.m.
Below is some important information for graduates and guests to consider as they plan for Friday:
Graduates should report to the Charlie and Helen Hampton Library for check-in when they arrive (preferably by 6 pm...no later than 6:30 pm).
A photographer will be set up taking cap and gown photos in the library. These photos are FREE and can be downloaded at www.ntcc.edu/gradpics within a week.
Graduates' personal items may be checked in the library and picked up in the Biggers Room after the ceremony.
All guests should report directly to the Whatley Center to get a seat. The doors to the Whatley Center will open at 6 p.m. We are expecting a full house with overflow, so please plan to arrive early to get seating in the auditorium.
The local fire department will determine when the Whatley Center has reached capacity. After the auditorium is full, additional guests are welcome to view the ceremony via a live feed in the Student Union Building.
The ceremony will also be streamed on Facebook Live at www.facebook.com/ntcceagles.
Graduates will gather outside of the Whatley Center on the plaza immediately following the ceremony. Guests should plan to greet their graduates in this area.
Diplomas may be picked up in the Biggers Room in the LC after the ceremony.