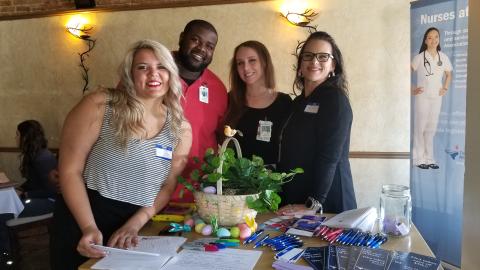 The Northeast Texas Community College Nursing program has had a busy and productive year. Below are a few highlights from the Spring 2019 semester:
• The Nursing program held its annual advisory committee meeting at the NTCC Culinary Arts School in downtown Pittsburg. The event was catered by NTCC Culinary Arts students and the nursing staff noted that it was "absolutely stunning and we were so proud that one of our own departments put together such a lovely brunch for us." Several preceptors and clinical partners were in attendance and they discussed the direction of the programs and how to improve clinical experiences.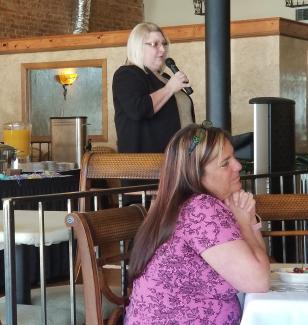 • The nursing program is growing! This May they will graduate the largest group of Associates Degree Nursing (ADN) students NTCC has ever had. The program will also graduate its first group of students from the new evening program. Further growth is anticipated!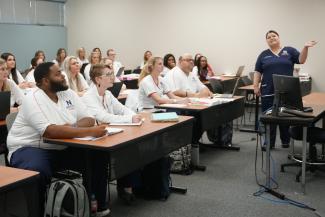 • The NTCC Vocational Nursing had a very busy season enriching their communities through volunteer commitments and philanthropy.  Several of our students spent hours with Truman Smith Home in Gladewater, all of which walked away with a new appreciation for those that care for children with disabilities.  Also, one of my students organized a group effort to assist with CASA of Titus County and played an integral role in the purple bows displayed around town for Child Abuse Awareness Campaign.  The same student also organized a major fundraiser for Hope Ministries that will purchase much needed personal items for women and children.  She has recently placed her order for the supplies and plans to deliver those sometime early next week.
• UT Health East Texas – Pittsburg recently hosted May NTCC ADN graduates this week, serving breakfast tacos for the day class and pizza for the night class. They also brought gifts for each student.  They were very encouraging to each group (Day cohort and Night cohort), but ultimately it was a THANK YOU to us and them.
These are just a few examples of the exciting things happening at NTCC Nursing. To learn more about the program, visit www.ntcc.edu/nursing.