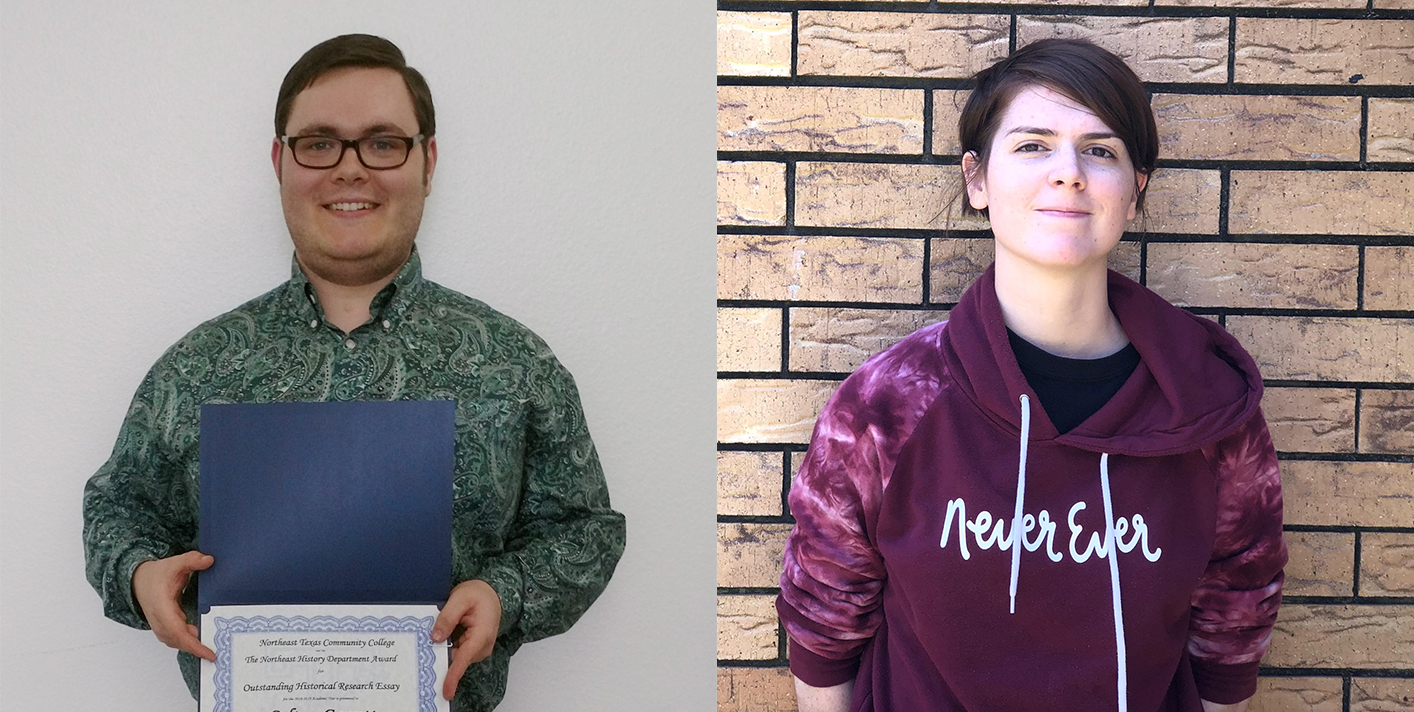 The Northeast Texas Community College Division of Social Sciences is pleased to announce that the 2018-2019 Outstanding Students in History (Best Historical Research Essays) are Colton Garrett and Laura Ross.
Colton Garrett is a history major from Daingerfield, who lives in Omaha. He has a Basset Hound named Bella Rose and his hobbies include reading and watching documentaries, especially those on World War II. Since taking every history course offered at NTCC, from every history professor who teaches here, he has come to appreciate the complexity of history. Finding most typical so-called documentaries one-sided, he's excited when he finds a legitimate one and considers it definitely worth watching when found! Colton is transferring to Texas A&M University – Texarkana where he plans to continue studying history. His research paper on Poland has piqued his interest and he may continue to do additional research on World War II and its impact on Europe. He plans to pursue a graduate degree in history.
"A people without the knowledge of their past history, origin, and culture is like a tree without roots." Marcus Garvey's quote about history appeals to Colton and his interest in history.
Laura Ross is from Pittsburg. Her hobbies include reading and drawing. She has one dog, a teacup poodle named Taz. Laura chose her major, General Studies, because she was not sure what she wanted to do when she first started here. Laura has consistently shown herself to be a capable historical researcher and writer, tracking down facts from the past and putting them together in a meaningful format, separating fact from fiction. That skill set will prove useful as she is transferring to Sam Houston, for a bachelors in Digital and Cyber Forensics. She plans to obtain a masters in Cyber Security.
"What is history? An echo of the past in the future; a reflex from the future on the past." Victor Hugo's quote about history is one that appeals to Laura and her interest in history.
For more information about History at NTCC, careers for history majors, and the critical thinking skills that come from analyzing the past, contact history professors James McGregor at jmcgregor@ntcc.edu, Dr. Andrew Yox at ayox@ntcc.edu or Dr. Melissa Fulgham at mfulgham@ntcc.edu.
The Division of Social Sciences has selected Outstanding Students in each of its degree-granting departments for the 2018-2019 academic year. Be on the lookout for information about each of these students in the coming weeks as each will be profiled over the summer.