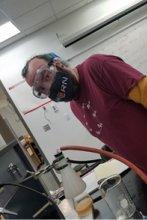 Dr. Drew
Murphy
Professor of Chemistry
Dept:

Chemistry
Dr. Drew Murphy (he/him) graduated with honors from Bradley University in Peoria, IL with a BS degree, double majoring in chemistry and biochemistry. He then attended the University of Southern California in Los Angeles, earning a PhD in chemistry with an emphasis on organometallic materials chemistry. Additionally, Dr. Murphy has worked as a postdoctoral researcher both at the University of California San Diego studying inorganic materials chemistry and at the Yale University School of Medicine in New Haven, CT, working in biochemistry and cancer biology. Dr. Murphy approaches his chemistry courses with an active learning style. Students work in groups in class solving problems, and they get hands-on chemistry experience in the laboratory under his supervision.
In his spare time, he enjoys watching sci-fi/fantasy television shows, collecting and building Lego models, playing the clarinet, and writing fiction.
---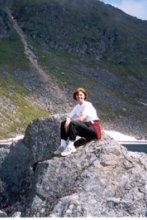 Dr. Mary
Hearron
Professor & Division Chair for Biology and Chemistry
Dept:

Biology, Chemistry, Natural Sciences, Honors Program
Originally from the North Star state and Land of 10,000 Lakes of Minnesota, Mary made the move to the Lone Star state of Texas (where there is just one natural lake…Caddo) while in high school. Her summers attending Camp Sakajawea in Apple Valley, MN and Camp Wabigonese in Brainerd, MN lead to an interest in the study of the natural world and ultimately to degrees in biology and chemistry at East Texas State University (now, Texas A&M University-Commerce). Her graduate studies focused on her interests in microbiology and genetics with a master's thesis on antibiotic resistance and plasmids in Salmonella sp. She taught high school biology and chemistry for 7 years prior to joining NTCC in 1985, first as an adjunct instructor, and then as a full professor of biology and chemistry in 1987. She was awarded the doctorate degree from TAMU-Commerce in 1991 with a dissertation identifying factors related to community college student success in course work in anatomy and physiology.
Dr. Hearron teaches courses in general biology, microbiology, anatomy and physiology, genetics, nutrition and general and introductory chemistry. She has developed and taught online courses in anatomy and physiology, microbiology and genetics since 2010. In addition to her teaching responsibilities, she also serves as the Chair for the Division of Natural Sciences.
Her hobbies include gardening, oenology, travel and reading.
---