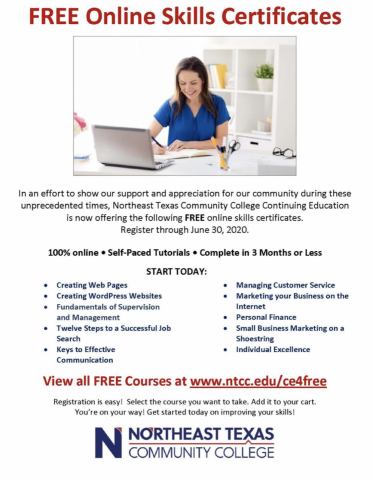 May 15, 2020
The Northeast Texas Community College Continuing Education Department is pleased to offer the community a variety of free online training opportunities.
"In an effort to show our support and appreciation for our community during these unprecedented times, we are offering 10 online skills certificates for free," Lisa York, NTCC Director of Continuing Education and Corporate Training, said.
Courses are fully-online, self-paced and can be completed in three months or less. Free classes include: Creating Web Pages, Creating WordPress Websites, Fundamentals of Supervision and Management Twelve Steps to a Successful Job Search, Keys to Effective Communication, Managing Customer Service, Marketing Your Business on the Internet, Personal Finance, Small Business Marketing on a Shoestring and Individual Excellence.
"These classes are a great option to enhance your resume, improve your small business or as professional development to help you in your current position," York said.
Sign up online for free at www.ntcc.edu/ce4free. A wide variety of other online courses are also available at affordable prices. Please e-mail continuinged@ntcc.edu or call 903-434-8134 for more information.