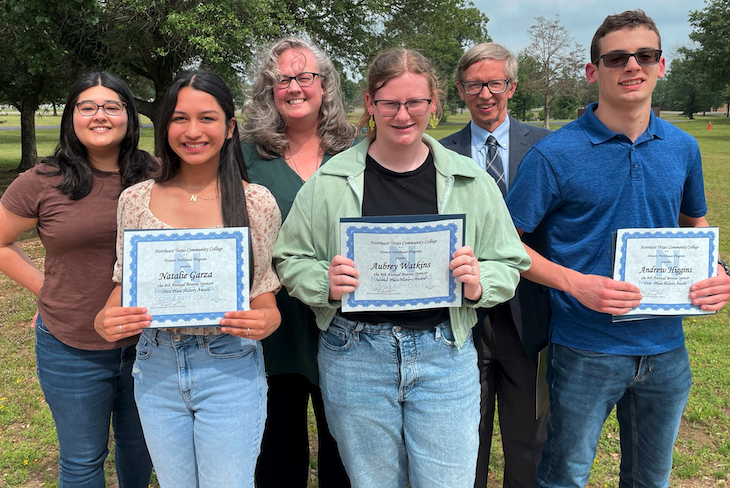 May 17, 2023
Pictured: Front row (from left) Natalie Garza (3rd), Aubrey Watkins (2nd), and Andrew Higgins (1st). Back row: Melody Mott (Mentor, PTK-Honors Coordinator who adjudicated the contest), Dr. Melissa Fulgham, and Dr. Andrew Yox.
By: Dr. Andrew Yox, Honors Director
Three NTCC history students emerged on top in the 2023 Bonnie Spencer competition, for the best student essays in history, outside of the honors seminars. Essays could have been entered from any other history course from any history instructor, full-time or part-time, on campus or off, such as with embedded dual history classes.
Andrew Higgins, a dual enrollment student from Mount Vernon High School won first place with the "Origins of Power: The Aftermath of the Spanish American War." Wiggins obtained part of his schooling at the University High School of Waco. In second, Aubrey Watkins, an NTCC Presidential Scholar, won by submitting, "The Impact of Vikings Throughout Time," on her own, rather than through a professor. Watkins was the recent first-place winner of the poster division of the Red River Honors Symposium in Texarkana. In third place, Natalie Garza won with "A Vital Cure," a story about Jonas Salk. When Garza, a top junior at Pittsburg High School, reported for the above photo, members of the history department learned that she was the daughter of Erika Garza, who until her recent departure for a position elsewhere, led NTCC's vital Title V program.
The contest honors the student founder of the college's first history club in 2002. Bonnie Spencer subsequently helped transition the efforts of the NTCC Webb Society and Honors Northeast toward feature-length films. She has also raised and donated funds for activities in history at NTCC.
Phi Theta Kappa-Honors Mentor, Melody Mott, adjudicated the contest. History and English department faculty served as judges.
History at NTCC offers courses in American, African-American, Mexican-American Texas, and World Civilization. The college's Walter Prescott Webb Society, linked both to Honors Northeastand to the study of Texas history, recently won a Caldwell Award on the state level, for its film work on the story of the Texas Suffragettes. Each year since 2008, students at NTCC have presented works of history nationally, regionally, and locally. Since 2010, as noted on the Wall of Honor in the Honors Northeast website, NTCC history students have published twenty-seven essays in refereed journals.