Academic Advisors & Recruiters
Cali
Davis
College Navigator
Dept:

Advising
Cali is a College Navigator who attended Northeast Texas Community College following her graduation from Pittsburg High School. During her time at NTCC, Cali earned an Associate's Degree of Arts in Teaching, with an emphasis on Early Childhood Education. Cali then transferred to Texas A&M University – Texarkana at NTCC where she earned a Bachelor's Degree in Interdisciplinary Studies. Cali taught in the public school system for 3 and a half years before beginning her career at NTCC as an Advisor. Cali's plans going forward are to earn a Master's Degree in Organization at Texas A&M University – Commerce so that she will be able to better service the NTCC campus. Cali is a hometown girl who surrounds herself with friends and family, especially her husband, Jake, and her three small dogs. In her free time, Cali loves to be outside and does not mind a shopping trip now and then!
Disciplines: Business, Welding, Criminal Justice, Automotive, Autobody, Cosmetology, Industrial Technology, Agriculture
---
Sheila
Eddy
Associate Director of Academic Advising
Dept:

Advising, Registrar, Special Populations
Advisor for the following disciplines: Student Athletes, Special Populations, General Studies, Art, Communications, Theater, Education, English, Government, History, Music, Physical Education, Human Performance, Psychology, Social Work, Sociology, and Spanish.
Sheila attended Southern Arkansas University in Magnolia, Arkansas where she was employed by Student Services as both a Resident Assistant and a Hall Director while earning her BSE and her M.Ed. She feels her life has come full circle as she joins the NTCC Student Services team. She comes, most recently, from the field of public education where she served MPISD as a GT teacher and 504 Coordinator on an elementary campus for the past 9 years. She also has experience as a mentor teacher at the Child Development Center for 8 years. Sheila previously taught EDUC and RDG courses for TAMU-T @ NTCC. Her lifelong love of teaching continues as she has become an instructor for an EDUC 1300 class in addition to her roles as an academic advisor. Sheila is married to Scott and they have 3 children who have all graduated from college and married, as well as one amazing grandson. She enjoys reading, playing board games and doing puzzles while spending time with her family and watching Arkansas Razorback football.
---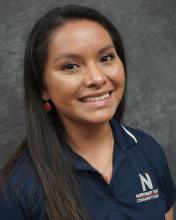 Lupe
Torres
Academic Advisor/Registrar
Dept:

Advising, Registrar
Advisor for the following disciplines:
Community Health, Emergency Medical Services, Funeral Services, Healthcare Studies, Medical Assistant, Nursing, Medical Lab Technician, Patient Care Technician, and Physical Therapist Assistant
Lupe is an Academic Advisor who attended NTCC following her graduation from Pittsburg High School. During the two years in which she was enrolled at NTCC, she was a student worker for the Student Services Department. She earned an Associate's Degree in Biology and a Patient Care Technician Certification from this institution. While finishing her degree she began working at a local hospital and volunteering at a nearby Advocacy Center. Her educational endeavors continued at The University of Texas – Tyler; in May of 2019, she received a Bachelor's of Science in Biology and minors in Biochemistry and Chemistry. Lupe considers herself a lifelong learner and aspires to continue her education by attending graduate school. During her free time she enjoys being with her loved ones, shopping, and discovering local coffee shops.
---